JANUARY 2022 | WHAT'S IN THIS ISSUE?

» Why winter house hunting can be a winning strategy
» What does 2022 hold for housing?
» 3 ways to prevent ice dams

Why winter house hunting can be a winning strategy

Traditionally, there's a home buying lull when the cold comes calling. Folks are reluctant to go touring houses in the cold, and moving in icy conditions adds hassle. However, there are also some major perks to shopping in the snow.

Here's why winter house hunting may be a winning strategy for you.

Fewer people are out house hunting
Fewer people shopping means lower demand. Lower demand can potentially drive prices down. It also helps to minimize the risk of a bidding war. Even in a red-hot housing market, the winter remains a less competitive time to shop than any other season.

You'll have the full attention of your real estate agent
Another perk of the lower volume of house hunters? Your agent is likely to be even more responsive than during peak season. When they have fewer active clients to manage, you get faster responses and greater scheduling flexibility.

The relocation rush is real
Many big companies do their employee shuffling at the start of the calendar year. Transferring employees are typically very motivated to sell quickly and for a fair price. That motivation can give you a boost in leverage during negotiations.

You'll see what the house is REALLY made of
Touring in winter can give you a better sense of the hardiness of a home. You can identify evidence of ice dams, failing window seals and the like, and either choose to steer clear or use them as leverage during closing. Either way, you're not stuck with a miserable surprise when the first frost comes rolling in.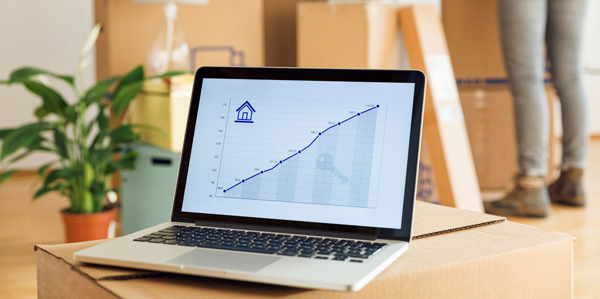 What does 2022 hold for housing?

Models are useful for predicting the future of housing prices. But with the outlandish market conditions of 2021, there's no consensus to be found about 2022. Let's break down the extreme ends of the prediction spectrum, and what it all could mean for the future.

Some models say big price increases…
In November, Zillow predicted home values would rise a whopping 13.6% in the next 12 months. But they're not even the most bullish model around. Goldman Sachs is predicting 16%.

If these models are right, priced-out home buyers aren't going to see relief anytime soon.

…but other models say small increases
The real estate data firm CoreLogic is much more conservative, predicting a price increase of just 2.5% year over year. Redfin sees things similarly, predicting a 3% increase.

Both models interpret the combination of rising mortgage rates and already high home prices as a recipe for lower demand by speculators, and lower price growth overall.

The bottom line: Prices will increase
The only thing most everyone can agree on is that the median home price will keep rising next year. But the total percentage increase? That's still anyone's guess.
3 ways to prevent ice dams

Trust us. The best way to handle ice dams is prevention. Here are three tried-and-true strategies:
1. Install heated cables along your roof's edge.
2. If you don't have cables, use a roof rake after every snowfall.
3. Keep your attic well ventilated.