MARCH 2022 | WHAT'S IN THIS ISSUE?

» 5 home improvements that can speed up selling
» Top kitchen remodel trends for 2022
» Top towns for spring flower fans

5 home improvements that can speed up selling

If you're thinking about doing some home improvements before selling, it's important to be strategic about how you spend your money. Not all home improvements are made equal when it comes to wooing buyers.

Here are four projects that can be considered fairly safe bets for attracting attention and potentially speeding up the sale of your home.

1. Powerwash the exterior

Everyone knows the importance of first impressions. Fixing up your curb appeal is almost always a good use of time and money. Best of all, powerwashing is relatively inexpensive to begin with, averaging just a few hundred dollars.

2. Aesthetic kitchen upgrades

All new appliances and total kitchen remodels are very expensive, making them hard to justify when the main goal is maximizing profit. However, if you think your kitchen needs a facelift, there are less expensive solutions such as repainting cabinets and updating the backsplash.

3. Repaint the interior

This can be a pretty time-intensive DIY, or you can hire a company to do it for you. Something key to remember though: Don't do it halfway. If only one room looks freshly painted and the rest have signs of wear, there's a limit to the positive impact you'll be able to make.

4. New flooring

New floors are a big investment when you're selling your home, but they can have a powerful effect in the right conditions. If your flooring is an outright eyesore — for example, stained or threadbare carpet or peeling laminate — leaving things as-is can get in the way of potential buyers seeing the full value of your home.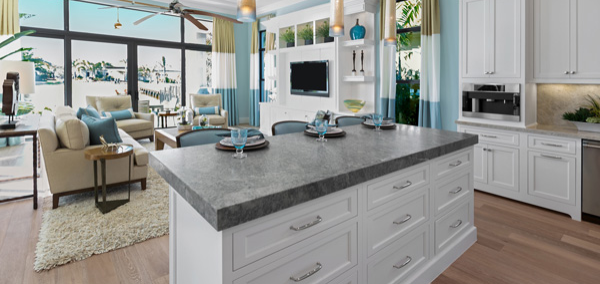 Top kitchen remodel trends for 2022

After surveying more than 2,300 homeowners on their site, Houzz has released their kitchen trends report for 2022. Time to find out how your vision stacks up against the average U.S. homeowner!

Countertops were upgraded in more than 90% of kitchen renovations, and about a third of homeowners reported splurging on them. Engineered quartz and granite were chosen a combined 68% of the time.

Kitchen islands were front and center, with 57% of respondents saying they added one or expanded an existing one. What's more, 92% of island owners reported installing new light fixtures overhead. A lot of this attention comes down to the new, multifaceted importance the kitchen island has acquired, particularly as a workspace.

Transitional, contemporary and modern styles were the first, second and third most popular aesthetics respectively. Among them, though, transitional is the only one that saw an increase in popularity over 2021, rising 4 percentage points to represent 25% of all renovations completed.

Finally, white remains the most popular color choice for walls, backsplashes, countertops and cabinets. Talk about confidence in your ability to keep things clean!
Top towns for spring flower fans

Budding florists, take note! Here are a few towns worth taking root in:
Washington, D.C., for cherry blossomsEnnis, TX, for blue bonnetsMobile, AL, for azaleasHolland, MI, for tulipsLancaster, CA, for poppiesGatlinburg, TN, for wildflowers